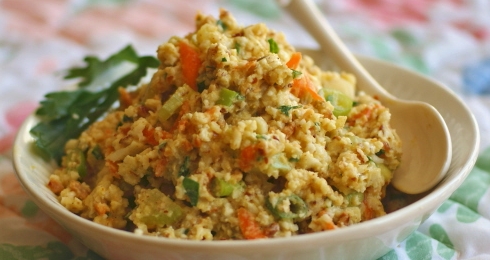 Prep Time: 5m
Cook Time: 2m
Ingredients
1/4

c

sunflower seeds

1

c

cashews

1

c

pecans

1

cucumber (peel first if your skin is tough) (cut into chunks)

1

small red onion Half of an apple (cut into chunks)

1

celery stick (cut into chunks)

1

tsp.

fresh or dried dill

1

tbsp.

lemon juice

1

pinch

of sea salt
Instructions
Throw everything in a food processor. (Do not use your blender for this.)
Process very briefly until your mixture resembles the above photo.
You can let this raw recipe sit for half an hour or so to let the flavors combine briefly, but this raw vegan meal does not keep for very long so eat up!
Serve as above, in lettuce wraps, in a hollowed out sweet bell pepper, or serve with avocado chunks on top!
You will need a food processor for this
2015-10-02T23:37:06+00:00