The Waldorf salad has made a name for itself in the culinary world. Originally, it was a simple salad consisting of apples, celery, and mayo. Introduced on March 14, 1893, the Waldorf salad was served to guests at a charity ball honoring St. Mary's Hospital for Children. Coincidentally, the Waldorf hotel opened the previous day, and the charity ball was the very first event to take place in the hotel.
Edouard Beauchamp, the Waldorf's original executive chef, came up with the salad (and the rest of the menu) with Oscar Tschirky, the maitre d'hotel. Just three years later, Tschirky published a cookbook with the recipe for the historic salad. The simplicity of the salad may be the reason for its rise to fame. However, shortly after the salad's introduction to the world, people began to elaborate on the original three ingredients. Over time, people added walnuts, oranges, marshmallows, and a few other items on occasion.
This salad does not contain mayonnaise, nor does it contain walnuts. It does, however, contain raw pecans, grapes, apples, dried cranberries, celery, and mixed greens. We used Granny Smith apples, but you can use Fuji, Honeycrisp, or Gala apples if you prefer those varieties. Similarly, you can swap out the red grapes for green grapes if you prefer the flavor profile.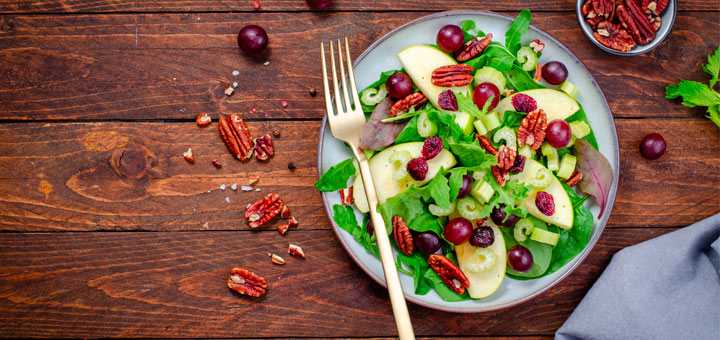 Prep Time:15m
Total Time:15m
Ingredients
For the Dressing
1/2

c

olive oil

1/4

c

raw apple cider vinegar

2

tbsp.

freshly squeezed lemon juice

1

tsp.

raw agave nectar

3/4

tsp.

onion powder

3/4

tsp.

garlic powder

1/4

tsp.

sea salt

1/8

tsp.

ginger powder
For the Salad
6

c

mixed greens

1

Granny Smith apple, thinly sliced

1

c

red grapes, halved

1/2

c

celery, thinly sliced

1/4

c

dried cranberries (without added sugars or preservatives)

1/4

c

raw pecans
Instructions
For the Dressing
Combine all of the dressing ingredients in a small jar, screw on the lid, and shake well for about 10-20 seconds.
Taste and adjust seasonings as needed. Set aside while you prepare the salad.
For the Salad
In a large bowl, combine all of the ingredients and toss gently to combine.
Shake up the dressing and pour your desired amount over the salad. Toss to coat all of the ingredients and then serve. Enjoy!
2023-10-11T10:43:04-07:00