Peaches are particularly popular, especially in modern day recipes. This rich, juicy stone fruit is bountiful during summer, but you start to see them on supermarket shelves during the spring. Naturally, they have the best flavor during their summer season. That doesn't mean you have to avoid peaches if you see them on the shelves before then, though. In fact, we encourage you to experiment with peaches, going outside the traditional box of recipes. That's where this recipe enters the equation.
It's time for a salsa that doesn't burn your taste buds off after you take a single bite. Well, you can add a finely diced jalepeño or serrano pepper to this salsa if you enjoy a little heat, but it doesn't make or break this dip. If the sun is shining and the skies are blue, this is the recipe for you. Not only is is Whole30-friendly, but it is also raw vegan, making it 100% Full Body Cleanse approved. While you can't bust out a bag of tortilla chips to scoop up this salsa during your cleanse, you can use raw bell peppers, dehydrated zucchini, or dehydrated flax crackers for dipping. We highly recommend the flax crackers, which you can make by clicking here.
One of the great things about this cucumber peach salsa is that it promotes hydration. Cucumbers are naturally rich in water, contributing to your daily water intake. You can also enjoy this is salsa as a lovely side salad because it has incredible flavor on it's own. The flavors are jazzy, zippy, and seasonally sensational, not to mention refreshing. Expect to love this salsa! We promise that it doesn't disappoint.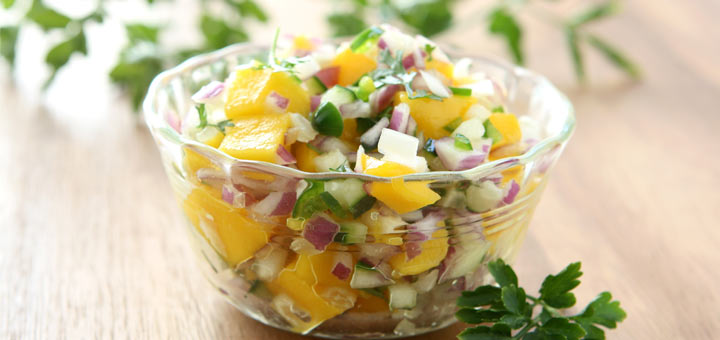 Prep Time:10m
Total Time:10m
Ingredients
2

c

English cucumber, diced

2

peaches, peeled, pitted and chopped

1/4

c

red onion, diced

1/4

c

cilantro, chopped

1

tbsp.

mint, chopped

2

tbsp.

freshly squeezed lime juice

1

tbsp.

extra-virgin olive oil

1

garlic clove, minced

1/2

tsp.

ginger root, peeled and grated

1/4

tsp.

sea salt

1

jalapeño, seeded and diced (optional)
Instructions
After you prepare all of the ingredients, combine in a medium-sized mixing bowl and mix well, but not aggressively.
The herbs are delicate, so make sure that you don\'t overwork them.
Serve immediately or cover and refrigerate until ready to serve.
2022-06-09T01:34:27-07:00