This is the type of meal that we like to call the "I only had these ingredients so I'm making what I can" recipe. The flavor combinations and ingredients are well balanced and work well together. We definitely encourage you to use the optional toppings, but you are the chef and we respect your decisions.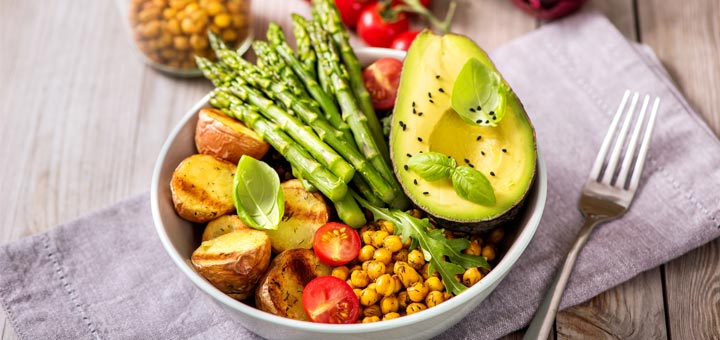 Prep Time:5m
Cook Time:35m
Total Time:40m
Ingredients
For the Vegetables
2

red potatoes, cubed

1

bunch asparagus, ends trimmed

1/2

small red union, thinly sliced

2

cloves garlic, minced
For the Dressing
3

tbsp.

balsamic vinegar

juice from 1/2 lemon

1

tsp.

grade A maple syrup

sea salt & pepper, to taste

pinch of red pepper flakes

1

handful fresh basil, chopped

1

c

canned chickpeas, draineds
Optional Toppings
1

avocado, pitted, peeled and chopped

1

c

cherry tomatoes, halved
Instructions
For the Vegetables
Preheat oven to 425 degrees and grease a baking sheet with olive oil or line the sheet with a silicone mat.
Fill a medium saucepan halfway with water, season with sea salt, and place it over high heat. Once the water is boiling, add the potatoes and cook until fork tender.
Spread the asparagus on a baking sheet and sprinkle the onion and garlic over it. Roast until asparagus is tender but still crisp, about 10-15 minutes, mixing up once so they cook evenly. Remove from oven when done.
For the Dressing
Make the dressing by adding the balsamic vinegar, lemon juice, maple syrup, sea salt, pepper, red pepper flakes, and basil to a blender and blend until smooth.
Add chickpeas to large frying pan over medium heat and pour half of the balsamic dressing into the pan. Cook for about two minutes and then add the potatoes, asparagus, and the remaining dressing to the pan. Cook until the dressing is sticky like a balsamic glaze (about 2-3 minutes)
Add everything to a bowl, arranging as you please and top with the optional avocado and cherry tomatoes.
2022-05-31T02:30:40-07:00