The eggplant may not be on the top of everyone's grocery list, but this purple vegetable is one of the most versatile ingredients you'll ever cook with. They can be grilled, roasted, sautéed, pureed, or fried. The eggplant is a beautiful vegetable and we hope you like it in this sandwich.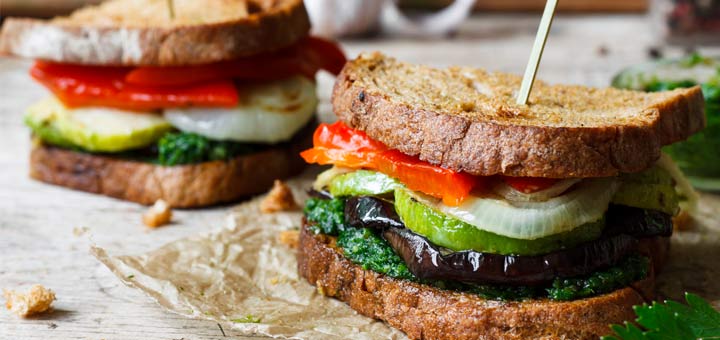 Prep Time:15m
Cook Time:20m
Total Time:35m
Ingredients
1/2

large eggplant, sliced into 1/4" rounds

1 1/2

tbsp.

olive oil

dash of sea salt

4

tbsp.

Swiss Chard Pesto

4

slices whole grain bread

1

avocado (pitted, peeled, and thinly sliced)

1/2

c

thinly sliced sautéed onions (optional topping)
Instructions
Preheat your oven to 375 degrees F.
Place the eggplant slices on a baking sheet greased with olive oil, drizzle olive oil on the slices, and season them with sea salt.
Place the baking sheet in the oven and roast them for 10 minutes. Remove from the oven and flip the slices over. Place them back in the oven to roast for another 10 minutes, or until they are soft.
While the eggplant is roasting, make the Swiss chard pesto and toast the whole grain bread slices.
Assemble the sandwiches by placing your desired amount of eggplant, pesto, and avocado on each one. Feel free to the add optional sautéed onions, tomato slices, or arugula to your healthy sandwiches!
2022-06-10T00:59:04-07:00