Sometimes, you want to enjoy a pasta dish without having to simmer a sauce for an hour. This recipe actually comes together very quickly. Once the pasta finishes cooking, you have to act quickly, which is why all of your ingredients need to be prepped. And by "prepped," we mean that you have to chop some parsley and thinly slice some garlic.
Remember that scene in Goodfellas? You know the one when Paulie is finely shaving the garlic cloves with a razor blade? Well, you don't need to shave the garlic that thinly, but you want to get it as thin as you can. If that means that you need to use a mandolin because you don't trust your knife skills, so be it! The thin garlic slices get luxuriously soft in the warm oil, but you have to make sure that you don't cook them too much. If you let the garlic slices crisp up, then your pasta will have a slightly bitter flavor that you cannot undo.
Believe us when we tell you that your house will smell like garlic and chili flakes when you make this dish. If the smell of garlic is off-putting to you, this is not the dish for you. But that signature garlic smell is beautiful and romantic, even if garlic breath is not. For your pasta, you can use spaghetti, fettuccini, bucatini, or whatever long noodle you enjoy. Just make sure you cook the noodles al dente!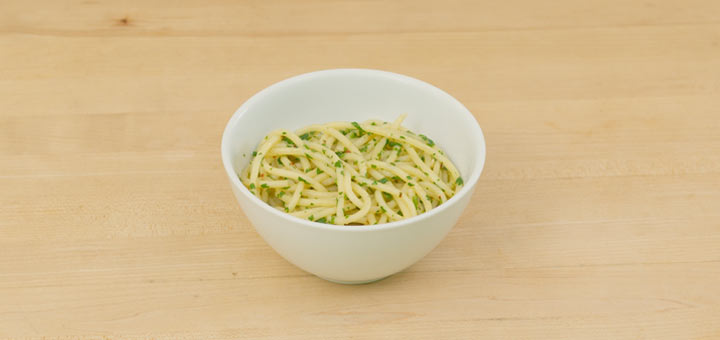 Prep Time:10m
Cook Time:10m
Total Time:20m
Ingredients
1

lb

spaghetti, or other long pasta

1/2

c

extra virgin olive oil

4

-5 garlic cloves, thinly sliced

1

tsp.

dried chili flakes

1/4

c

fresh parsley, coarsely chopped
Instructions
Bring a large pot of salted water to a boil and add the spaghetti, or pasta of choice. Cook until al dente: the pasta should be soft with a little bite.
Before you strain the pasta, make sure to save about a half-cup of pasta water because that is liquid gold.
Right before your pasta is done cooking, make the sauce. Heat the olive oil in a large frying pan over medium heat.
Add the garlic and chili flakes and cook until the garlic is pale gold. Careful not to burn or crisp up the garlic.
Drain the spaghetti and then add it to the frying pan with the olive oil. Add the half-cup of reserved pasta water and toss to coat the pasta.
Add the parsley to the pan and turn off the heat. Toss to coat and then serve in separate bowls. Serve with the optional lemon wedge, sea salt, and pepper.
2022-12-14T12:06:09-07:00