Smoothies don't have to contain 15 different fruits and vegetables to taste delicious. In fact, the best tasting smoothies often contain five ingredients or less! This smoothie is excellent because it celebrates some of our favorite summertime ingredients. The tropical, refreshing flavor combinations will cool you off on these hotter days.
Don't let fatigue or heat exhaustion set it, especially when you can easily promote hydration with fresh ingredients. You'll have to suppress the urge to not make another cup as soon as you finish your smoothie. It's that good! Let us know how you like it!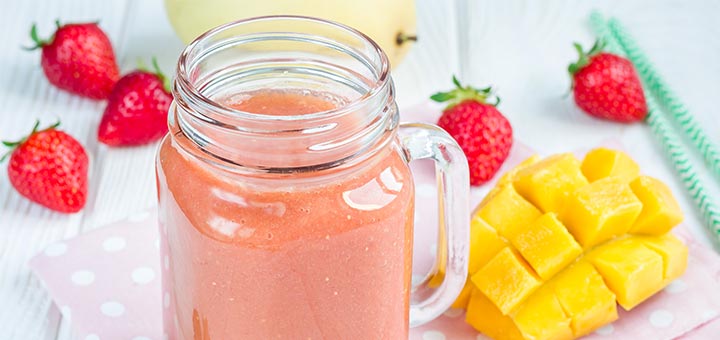 Prep Time:5m
Total Time:5m
Ingredients
2

c

strawberries, frozen overnight

1

mango, cubed

1

c

homemade almond milk

2

tbsp.

raw agave syrup

2

c

ice
Instructions
Add all of the ingredients to a blender and blend until smooth. You may need more or less ice depending on your desired consistency.
Pour the smoothie into a cup and enjoy. Feel free kick back in the sun while sipping this smoothie. In fact, that is encouraged.
2022-06-14T00:20:34-07:00