Who doesn't love mushrooms? They are a great source of B-vitamins, vitamin D, and the minerals potassium, zinc, and manganese. These healthy "eyeballs" are a savory and healthy Halloween appetizer. No cannibalism here, people; just delicious and nutritious eating. Wait and "see" how these taste. Ok, that was a terrible joke, but this is a great recipe for the spooky time of year.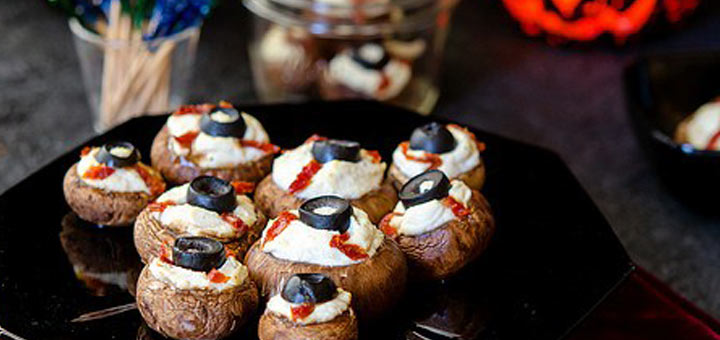 Prep Time:20m
Cook Time:10m
Total Time:30m
Ingredients
18

oz

button mushrooms

1

block tempeh

1

clove garlic

1

tsp.

fresh lemon Juice

3/4

tsp.

sea salt

1/2

tsp.

Italian seasoning

1/2

tsp.

onion powder

1/8

tsp.

black pepper

2 1/2

tbsp.

balsamic vinegar

2

tbsp.

sun-dried tomatoes in bag (not packed in oil), sliced in thin strips

2 1/2

oz

organic black olives
Instructions
Rinse or brush off the mushroom caps and pull all of the stems out of them. Set aside on a baking sheet.
Puree the tempeh, garlic, lemon juice, sea salt, Italian seasoning, onion powder, and black pepper together in a food processor until completely smooth. Scoop the mixture into a piping bag or Ziploc bag with a circle tip.
Preheat the oven to 350ºF. Carefully, pour just a couple of drops of balsamic vinegar into each mushroom cap.
Pipe the tempeh mixture into each cap so that it creates a small mound. It will be a different amount depending on the size of your mushroom caps.
Finely slice the sun-dried tomato pieces and start placing them on stuffed mushrooms. You can make them more vein-like by scrunching them a bit.
Top with one slice of olive and press it down just a touch.
Bake the mushrooms for 10 to 15 mins. or until the caps begin to wrinkle slightly. You can serve these warm (which I prefer), or room temperature.
2022-05-30T03:25:04-07:00