Jamaican Jerk flavors are replete with fresh herbs and spices. If you are trying to do your own rendition of a jerk sauce, you may forget some crucial ingredients. Now you have this marinade recipe to add a little bit of island flavor to your life.
Photo Credit: Cooking Maniac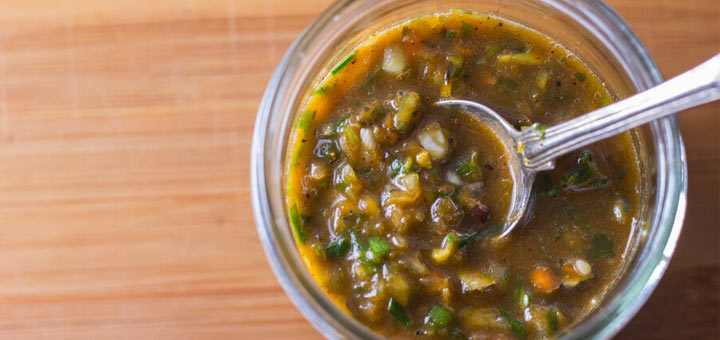 Prep Time:5m
Total Time:5m
Ingredients
1

large onion

4

sprigs of thyme

4

green onion stalks

2

tsp.

black pepper

2

tsp.

sea salt

2

whole scotch bonnet peppers (1 with seeds)

4

bay leaves

2

cloves of garlic

1

tsp.

cloves

8

pimento seeds

1

tbsp.

agave

2

tbsp.

liquid aminos

1

inch piece of ginger, peeled

2

tbsp.

extra virgin olive oil
Instructions
Chop the onion, scallions, garlic, and ginger and place them into the food processor or blender. Add the rest of the ingredients to the food processor/blender and blend away.
Blend until you get a chunky mixture that looks similar to salsa.
Now you have a delicious Jamaican Jerk marinade. You can store it in a glass jar in the fridge for up to 5 days.
2022-05-31T05:19:58-07:00