Is it wrong to have such strong feelings for a cozy, fall-inspired soup? Call us crazy, but these steamy bowls are exactly are exactly what you want on a chilly autumn evening. Sweet potato and kale soup is a cozy, healthy, and hardy meal option that is 100% vegan and easy to make. Not only will it please your palate, but it will also keep your belly full without weighing you down.
This soup is packed with a healthy dose of nutrients, including carotenoids, fiber, protein, healthy fats, vitamins, and minerals. The onions, garlic, bell pepper, and celery provide the base flavor for the soup, but the real flavor comes from the fresh herbs and seasonings. Obviously you get the sweetness from the sweet potato and nuttiness from chickpeas. Don't worry about the kale imparting a bitter flavor because it takes on the flavor of the broth once it softens.
There is one thing to note when you add the kale to the soup. Make sure that you don't add the kale until the last five minutes of the cooking process. If you add it while the potatoes are still boiling, the kale will become overly soggy. Once you finish cooking the soup, ladle it into bowls and top with a healthy sprinkle or crack of black pepper. The soup is hardy enough to enjoy on its own, but a crisp slice of bread would be a lovely treat to accompany it. Think about it and let us know!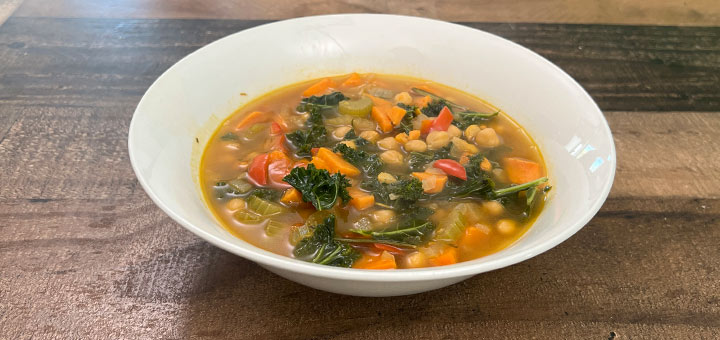 Prep Time:15m
Cook Time:25m
Total Time:40m
Ingredients
2

stalks celery, diced

1/2

yellow onion, diced

1

red bell pepper, diced

4

cloves garlic, minced

1

tsp.

dried rosemary

1/2

tsp.

dried thyme

2

medium sweet potato, peeled and diced

2

c

canned chickpeas, rinsed

4

c

low-sodium vegetable broth

4

c

filtered water

1/2

bunch curly kale, roughly chopped

sea salt and black pepper, to taste
Instructions
Warm a tablespoon of olive oil in a large pot over medium heat. Add the onion, celery, and bell pepper to the pot and sauté for about five minutes, or until onion is translucent.
Add the garlic, rosemary, and thyme and continue to cook for an addition one to two minutes. Make sure to stir occasionally so that the garlic does not burn.
Add the sweet potato to the pot with 1/3 cup of water and then cover the pot to let the sweet potato steam for five minutes.
Uncover the pot and give everything a good stir before adding the chickpeas, vegetable broth, water, and sea salt and pepper. Bring the soup to a boil and then reduce heat to simmer for 10 minutes.
Add the chopped kale and cook for an additional two to five minutes and then ladle into bowls. Enjoy!
2023-11-14T14:08:02-07:00