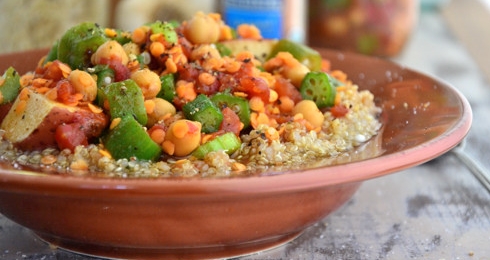 Prep Time: 10m
Cook Time: 45m
Ingredients
½ cup extra-virgin olive oil

¼ cup gluten-free all purpose flour

1

medium white onion, finely chopped

1

large organic bell pepper, diced

1

stalk organic celery, diced

1

c

lentils

2

large organic carrots, thinly sliced

2

large white potatoes, diced

1

½ cups okra (fresh or frozen)

1

½ cups organic chickpeas, cooked and drained

3

cups organic diced tomatoes

4

c

organic vegetable broth

1

tbsp.

Simply Organic Chili Powder

½ tsp. Frontier Organic Seafood Seasoning

½ tsp. Simply Organic Paprika

¼ tsp. sea salt

¼ tsp. freshly ground pepper

1

c

quinoa
;
Instructions
In a large pot over medium heat, combine oil and flour; cook for 2 minutes or until it turns a light brown color, then add in onion, bell pepper and celery.
Cook for another 6-7 minutes or until onions are translucent. Add remaining ingredients except quinoa; lower heat to low. Cover and cook for 45 minutes or until vegetables are tender.
Meanwhile, cook quinoa according to package ingredients.3. Serve gumbo warm over cooked quinoa.
2017-11-14T12:07:34+00:00