When working with collard greens, it's important to remove the thick stems because they contain very bitter flavors. They don't require lard or bacon to make them taste good, either! It's all about the seasonings! This dish can be made in a very large batch to be portioned out for meal prep. Anyways…let's make the dish!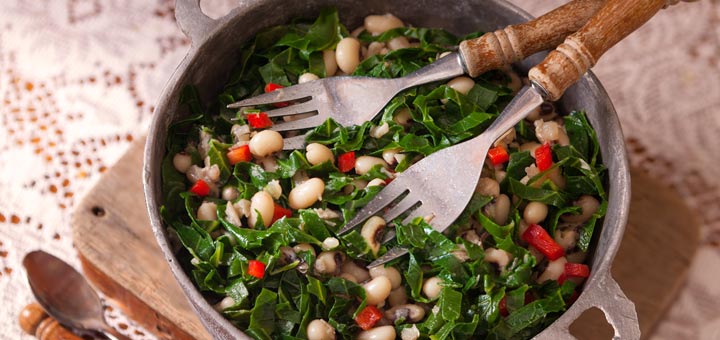 Prep Time:10m
Cook Time:15m
Total Time:25m
Ingredients
1

tbsp.

olive oil

1

c

onion, diced

2

garlic cloves, minced

1

bunch collard greens, chopped and thick stems removed

2 1/2

tbsp.

freshly squeezed lemon juice

1/4

tsp.

sea salt

1/4

tsp.

pepper

2

tomatoes, diced

1

(14oz.) can cannellini beans, drained and rinsed

pinch of red pepper flakes
Instructions
Warm the olive oil in a large pan over medium heat. Add the onion and cook for four minutes, or until softened. Add the garlic and cook for an additional minute.
Toss in the collards, lemon juice, and sea salt and pepper and cook for about five minutes, stirring occasionally.
Add the tomatoes and beans and cook until the collards are wilted and the beans are thoroughly heated. If you want the collards softer, keep cooking on low for an additional five minutes.
Serve in individual bowls and with a lemon wedge and a pinch of red pepper flakes.
2022-07-29T00:55:00-07:00