We love Italian food, but typical recipes are loaded with unhealthy carbs and refined grains. So many people resort to enriched pasta from packages, and these carbs can impair digestion. Use the light and delicious spaghetti squash as a healthy substitute. Just don't overcook it because it will turn to mush!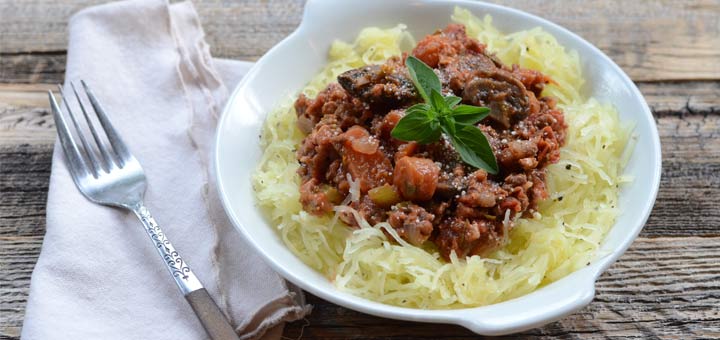 Prep Time:10m
Cook Time:30m
Total Time:40m
Ingredients
1

medium spaghetti squash

2

tbsp.

olive oil

1/2

c

yellow onion, diced

2

garlic cloves, minced

1/2

c

sliced mushrooms (or more to taste)

1/2

tsp.

crushed red pepper flakes

1/2

tsp.

dried oregano

1

tsp.

dried basil

10

large black olives, pitted and halved

1/2

tbsp.

capers

1

(14oz) can organic diced tomatoes

4

tbsp.

organic tomato paste

water to thin out sauce

pinch of black pepper

pinch of sea salt

2

tbsp.

parsley, chopped
Instructions
Preheat oven to 350º F and line a baking sheet with a silicone mat or aluminum foil.
Cut the spaghetti squash in half (lengthwise), clean out seeds, and season each side with a pinch of sea salt and pepper. Drizzle a little olive oil on each side and place the cut side down on the baking sheet. Bake in the oven for about 30 minutes, or until the squash is just tender enough for a knife to pierce through. Remove from oven and set aside to cool enough to be handled.
Meanwhile, heat 1 tbsp olive oil in a skillet over medium heat. Saute onion, garlic, and sliced mushrooms until tender.
Stir in the diced tomatoes, tomato paste, capers, black olives, and other seasonings. Cook for another 10 minutes on low eat. If necessary, you can thin out the sauce with water to achieve your desired consistency.
Use a fork to scoop the stringy pulp from the squash and place into a bowl. Separate the strands of squash to make sure there are no big chunks. Toss with 1 tbsp olive oil and season with a pinch of sea salt and pepper.
Ladle the puttanesca sauce over the spaghetti squash. Sprinkle with chopped parsley and mix well to combine. Spoon the spaghetti squash onto plates and enjoy your meal.
2022-06-16T00:39:51-07:00