If you didn't have time to go your go to burrito spot, good, because this vegan burrito bowl is way healthier than what you were going to eat. It is packed with nutrients and you can add or take off whatever toppings you want. The creamy cilantro dressing marries all the flavors and makes each bite more enjoyable than the last.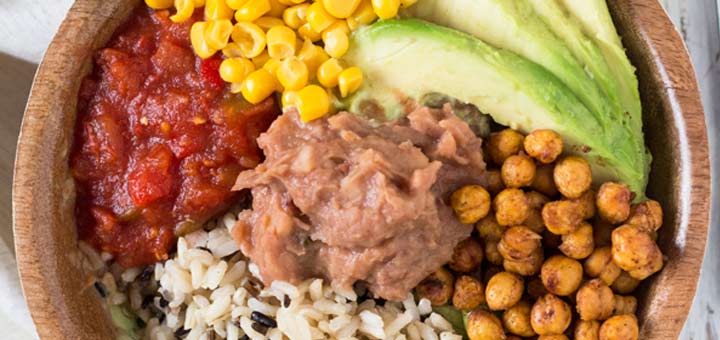 Prep Time:15m
Cook Time:15m
Total Time:30m
Ingredients
For The Bowl
1

½ cups iceberg lettuce, chopped

½ cup cooked wild rice

2

tbsp.

salsa

2

tbsp.

corn

2

tbsp.

refried beans

¼ avocado, sliced or diced

roasted chickpeas (to your liking)
For The Dressing
¾ cup unsweetened almond milk

2

tbsp.

olive oil

¾ ripe avocado, diced

1

green onion, sliced

1

tbsp.

fresh cilantro

1

small clove garlic, minced

1

tbsp.

lime juice

1/4

tsp.

lime zest

1/4

tsp.

of each sea salt, freshly ground pepper, ground cumin and chili powder
Instructions
Burrito Bowl Assembly
Add the lettuce to the bottom of a serving bowl, add rice and other desired toppings then drizzle with cilantro-lime avocado dressing.
Dressing Directions
In a blender, combine almond milk, olive oil, avocado, green onion, cilantro, garlic, lime juice, lime zest, sea salt, pepper and cumin; blend until smooth. Refrigerate until serving.
2022-06-08T00:48:40-07:00