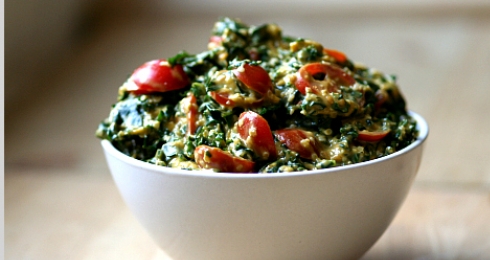 Prep Time: 5m
Cook Time: 5m
Ingredients
For the wilted kale

11

oz

(300 g) kale

1/2

tsp.

fine Himalayan salt

1

c

baby tomatoes, sliced

1/2

c

hulled hemp seeds (hemp hearts)

For the dressing

2

avocados

1

chipotle pepper* soaked for 2+ hours

1/4

c

olive oil

2

tbsp.

lemon juice

Chipotle soak water as needed to blend
Instructions
Chipotle peppers are jalapenos that have been smoked, and so are not raw. However, I love to use them as they have such a great taste and you don't need to use many! I have provided an alternative combination of ingredients in the recipe (look at notes) as a substitute to using jalapenos that will give a similarly distinctive taste.
1. Remove the kale stems, and then wash and cut the kale into small pieces. Place into a bowl, add salt and start to massage the kale until it wilts and takes on a 'cooked' texture.
2. Add the tomatoes and hemp seeds to the bowl and mix in by hand.
3. Blend all dressing ingredients in a high-speed blender until creamy, and then mix into kale by hand.
Notes:
*If not using chipotle peppers, substitute with 1/2 teaspoon each of onion powder, cumin, chili powder, garlic powder and tamari (or nama shoyu).
2015-10-02T23:34:49+00:00