This hummus is almost too pretty to eat. Depending on the beets you get, the hummus will either be a vibrant red or a rich, bold pink. You can dip fresh veggies in this hummus or spread it on some vegetable wraps. We hope you like it!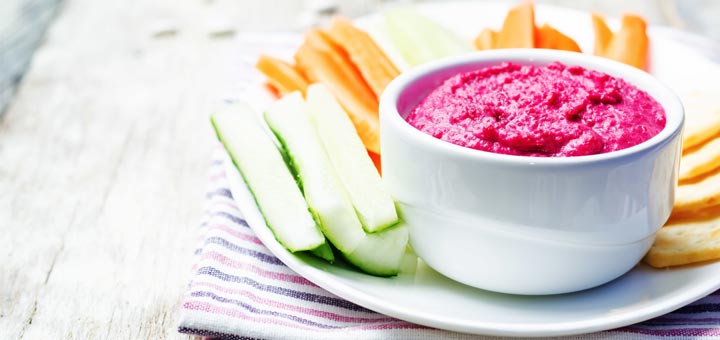 Prep Time:5m
Cook Time:30m
Total Time:35m
Ingredients
1

c

beets, cubed and peeled

1

(14oz) can organic chickpeas, strained

1/4

c

tahini

3

tbsp.

olive oil

2

tsp.

fresh lemon juice

1 1/2

tsp.

cumin

1

garlic clove, peeled
Instructions
Preheat your oven to 325 degrees F and drizzle a little olive oil on a baking sheet. Scatter the beets across the baking sheet. If you want more of a roasted garlic flavor, put the garlic clove on the pan as well.
Put the baking sheet in the oven and cook for 25 minutes. Remove after cooking and everything to cool.
Add the beets and the rest of the ingredients to a food processor or blender and blend until you get a smooth consistency.
Spoon into a bowl and serve with carrot, bell pepper, and celery sticks.
2022-06-08T00:55:13-07:00